Jerry Yang Addresses Financial Problems
By Matt Kaufman, Rakeback.com Poker News Editor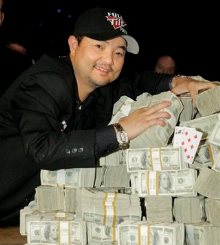 2007 World Series of Poker Main Event (qualify for 2013 now!) winner Jerry Yang is perhaps best known for being the least talented poker player to ever earn the title of "World Champion." Other than that, however, he has a reputation as a kind, religious, and charitable man.
As it turns out, perhaps he was too charitable. It was recently publicized that a Notice of Encumbrances was filed against Yang by the IRS. It included several liens requesting payment of back taxes totalling over $500,000.
The government is holding a public auction in the near future for some of Yang's belongings to recoup what they're owed – including his World Series of Poker Main Event bracelet.
Earlier this week, Yang appeared on Fifth Street Radio to speak about this ordeal. He revealed that his current situation is a result of having received bad advice regarding the taxation of his poker winnings. In a nutshell, he should have paid taxes ahead of donating money to charity. It also appears that even after that mistake, he was simply too generous with giving handouts to friends and family.
Yang thankfully used some of the money from his victory to start a restaurant, and according to him it's doing well enough that he should end up alright. We wish him the best of luck in dealing with this situation, and it's highly unfortunate that this can occur because a man was TOO generous.