Why everyone's playing online poker in Thailand
One of our content writers, James, has been covering the online poker industry from Thailand since 2009. We asked him for Thailand tips and stuff to bear in mind for anyone moving abroad to play poker.
Why Online Poker in Thailand
– What set you on moving to Bangkok?
I post a lot on the TwoPlusTwo forums and was checking the travel section for second gap year ideas, disillusioned about entering the 9 to 5 rat race.
I saw lots of poker players had become expats in places like Canada, Mexico, Australia, New Zealand and countries across South East Asia.
At the time the 'Ask us about Thailand' thread was bumped to the top with thousands of posts.
Seeing people post pics of their $300 Bangkok condos and trip reports of their travels, I realised I could live very comfortably over there for less than one friend was paying each month in tax and debt payments. I settled on Thailand.
A few months later for the same cost as my Brixton bedsit I'd be renting a 60 sqm condo with a pool, gym and rooftop putting green in Bangkok. Years on I've still never needed to spend more than 1000 GBP (~50,000 Thai Baht) a month.
Fast forward to 2015 and I now answer quite a few questions in that 2+2 thread (I'm 'jspill' on there) and help out new people moving here – I'll direct them to this Q&A.
Blackrain79 also made a helpful blog post on poker in Thailand, and this moving to Thailand thread is a funny read.
– So cost factors and chicks?
Basically. Being in a cheap country is great for dealing with bankroll downswings. That said many players spend a similar amount to back home and just enjoy their money going 2-5x further. Location arbitrage.
You can live the high life with penthouse apartments, gourmet restaurants and Thai massage spas yet struggle to spend over $4k/month.
At one point I was grinding microstakes in a $160 studio (5000 baht). The building still had a swimming pool. Didn't leave my room much but luckily in Thailand McDonald's delivers 24/7.
Later on I was robusto again and upgraded to a $550 (18000 baht) one bedroom with rooftop pool and putting green, that's the most I've ever needed to spend on Thailand accommodation.
Symphony condo, adjacent to Bangchak skytrain station
– Is Thailand a third world country? 
Not in terms of amenities and infrastructure. There are huge American style malls, high rise condos, rooftop sky bars, a skytrain and subway system cleaner than that of European cities, etc. Plenty of western food, online supermarket delivery, internet is fine both home wifi and mobile 3G. Overall Thailand is way more developed than nearby Cambodia and Philippines where you see abject poverty.
Politically you could say it's third world (2015 human trafficking scandal, 2014 military dictatorship etc.) but as an expat that doesn't really affect day to day life. A Thailand poker player describes his daily routine in this Q&A.
– Is it safe in Thailand now?
Pretty much, most will say they 'feel safer here than back home'. The Bangkok protests have calmed down now, and even at their height (I was here for the 2010 riots) they didn't affect me. They were isolated to certain barricaded parts of the city you couldn't get near.
The main things to watch out for are road safety (motorbikes are the highest risk of death, RIP Jack Wilcox), Phuket riptides, the muslim insurgency in the deep south (no need to visit that province anyway), drug/alcohol abuse, and there is some mafia presence on the Samui islands – see this foreign office advice.
Via Muay Thai Photography, run by a poker player and 2+2er (mjwhit)
Violent crime, muggings etc. are pretty rare, Thailand isn't that poor and has under 1% unemployment – plus Thai prison is a pretty big deterrent. In general it's a peaceful Buddhist culture. Playing online poker in Thailand wouldn't be such a popular choice for relocating US grinders if it wasn't safe here.
Thailand Poker
– Can I play on PokerStars in Thailand?
All of the major online rooms are available in Thailand. PokerStars recently pulled out of Malaysia and Myanmar (Sep '14) and then Singapore (Oct '14), but signups from Thailand are still accepted (Full Tilt too).
PartyPoker is also open to Thailand, as is iPoker (unlike in the Philippines). I'm not aware of any rooms that refuse Thailand based players, so 'can you play online poker in Thailand?' gets a resounding yes.
Americas Cardroom works in Thailand, although Black Chip Poker would make more sense as their support is better at dealing with Skrill and Neteller withdrawals that you'd now be able to use for poker outside the US.
– How about playing at Bovada from Thailand?
While it's not allowed so we can't officially endorse it, fact is many grinders do still access Bovada and play from Thailand.
They need a good VPN that doesn't fail or intermittently switch to a USA IP address.
I know people that got their account frozen as their VPN failed but because they were actually Americans that had a previous long playing history from the US, they just got a slap on the wrist and funds were returned after a while.
I wouldn't recommend it if you're new to the Bovada site and / or not American.
– Can I play online poker in Thailand without VPN?
The vast majority of poker sites can be played at from Thailand without a VPN, only a handful are blocked, usually ones with attached sportsbooks – poker isn't specifically targeted for censorship, most Thais aren't aware you can play for real money online. Betting on e.g. football is more popular.
Even if a poker room is blocked it's usually just the primary domain that's blocked, once the software is downloaded a VPN isn't needed to then connect and play.
There are a few Thai specific sites like PokerThai.net and CasinoRoller88s.com to play poker and casino games online with Thai locals.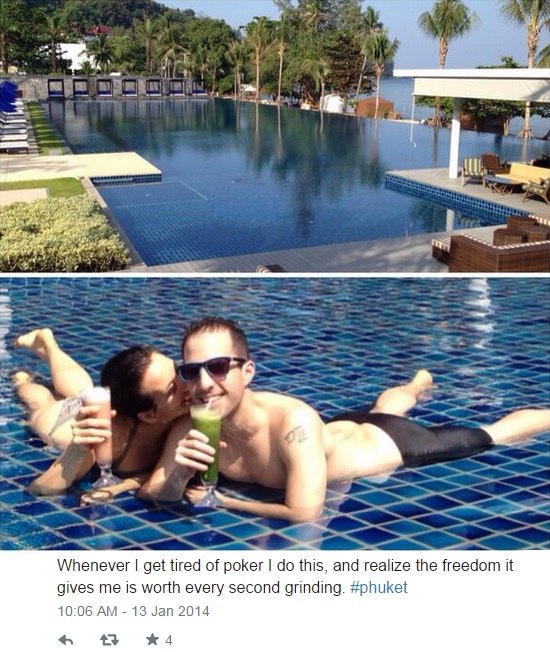 An online poker pro in Thailand, via Twitter
– How to get set up on PokerStars as a relocating US grinder?
Thailand is especially popular with expat grinders unhappy with the limited options for online poker in the US.
You'll need to send PokerStars proof of address, sometimes they'll accept a rental lease agreement, a utility bill is more likely to work though, e.g. most poker players set up private home wifi with True, TOT or 3bb. They send bills monthly. You'll need the address lines translated into English by a company, I photoshopped that.
Thai banks don't like to issue printed statements with name/address, if you are able to get some kind of document from them that's a quicker way to get verified. I linked some posts on that here.
So registering on poker sites from Thailand is a little fiddly with needing something with your name / address on it, with an official letterhead, translated into English, but doable. I've heard from other players that immigration can issue you a 'certificate of residence' and that worked for them. Haven't done that myself but that would be quicker than waiting for your first utiility bill to come in the post.
To deposit for the signup bonus I used Entropay as a middleman, deposited onto that with Kasikorn web shopping card then onto Stars. Neteller would've worked too.
– Best times to play poker online?
Thailand is 14 hours ahead of EST, and 6 hours ahead of CET. Some Thailand poker grinders like to wake up at 6am, get their grind out of the way by noon then be done for the day. EU regs are asleep and Australian fish start to log on approaching noon Thai time (ICT).
Others play with regs 8pm to 4am, 4 days a week. The lowest traffic times will be approximately noon to 8pm, or around 11am to 11pm for tournament players.

A fellow grinder took this, from Grand CentrePoint Ratchadamri hotel
– How do you deposit onto / cash out from poker sites?
2017 update – recently PokerStars and PartyPoker have stopped processing bank wires to Thailand. So if you have your account registered to a Thai address there will be no bank wire cashout option in the client.
Thai debit / credit cards are not a deposit option as Thai banks block gambling deposits.
Neteller is still both a deposit and cashout option. You can deposit onto Neteller with a Thai VISA debit / credit card then on poker sites, to get round the bank restrictions.
Most grinders use Neteller although they charge high fees and it's a bit of nightmare verifying an account, only to have it locked, then need to send in ID documents again.
Skrill (Moneybookers) works for cashouts on some poker sites, but not deposits if your Skrill is registered to a Thai address. On PokerStars it isn't a cashout option.
If your Skrill is not linked to a Thai address it may still be a problem depositing using Thai IP, if so try a VPN or I used to Teamviewer into a close friend's computer back in the UK, that worked.
It is best to have your Skrill in Euros because withdrawals from Skrill to Thailand banks are sent in EUR. If your Skrill isn't in EUR and you aren't Skrill VIP, you'll be hit with a 3% currency exchange fee.
If your PokerStars is still linked to your home country and you're using Skrill, open a EUR wallet in PokerStars and use the free currency conversion within PokerStars before cashing out. To avoid Skrill hitting you with another 3% fee when you send money from PS to Skrill.
Cheque and Neteller are the currenty two cashout options from PokerStars. I don't know of anyone who's tested receiving a check in the mail to Thailand though.
Entropay is usually a deposit option on most sites (including PS and Party) although it comes with a 5% fee.
I'd only use this for a one-off deposit. e.g. for the PokerStars $600 signup bonus. Cashout fees are also high.
There are many 2+2 posters offering Stars for Baht trades, as well as other poker sites and some trade Skrill / Neteller / Bitcoin. 'Frankpark9' in the 2+2 Thailand thread is a reliable trader.
There's also the HSNL xfer thread and various Skype groups. Usually people pay 3-5% vig for Baht.
Keeping Your Home Address on Poker Sites
If you're not American so already had access to RoW poker sites, you can usually simply continue playing from Thailand. Sites may freeze your account for a day until you explain you're on holiday but after that it's fine.
Some exceptions being if you're from the UK sites that use the dot.uk licensing may want you to switch to the global dot.com client eventually.
It's rare though for sites to insist you verify a Thailand address, therefore you can keep the wider range of cashout options by not switching. Especially now as bank wires are no longer a cashout option on some sites, there's no longer any benefit to switching.
There are some poker sites that do allow direct bank transfers from a Thailand bank account to the poker site, and vice versa. Despite poker not being legal (your bank statements won't say 'poker'.
This is a very convenient way to deposit and cashout if you've opened a Thai bank account. Example poker sites include Natural8, DafaBet, and some smaller Thai poker sites such as W88 poker.
ThaiPokerLeak.com has more info on how to deposit with a Thai bank account.
Had a few barbeques up here @Symphony Bangchak
– Is it illegal to play online poker in thailand?
Some would say 'of course, yes' as a) gambling is illegal, b) there are no live casinos or poker tournaments in Thailand, c) underground live games have been raided before, and d) Thai bank cards / some eWallets restrict poker deposits. Bill Rini's cautionary post on poker in Thailand comes to mind.
Others would question if Thailand has any jurisdiction over offshore online poker sites accessed remotely as a tourist. The sentiment of anti-gambling laws – although Muay Thai is exempt and there is a state lottery – is debatably only to protect Thais from losing their Thai Baht savings.
Expat online poker players are gambling in foreign currencies and contributing to the economy, not harming it – while deposits are blocked, cashouts work perfectly, even wires direct from poker sites to a Thai bank.
If still technically illegal, enforcement is nil – at the time of writing there have been zero cases of a conviction for playing online poker. Many Thais play on Facebook, they have their own forums and I've even seen some wearing PokerStars shirts. Everyone loves to gamble here.
Many sports betting sites are set up for Thailand based customers, e.g. the popular AceBet99 and Bet88Win – and casino sites e.g ThaiCasinoSlot and AsiaOnlineSlot.
The authorities are mainly concerned with football betting networks – people placing bets live in Baht, using Thai bank accounts to move money around. That type of gambling leaves a trail and gets shut down frequently. Quite different to depositing at PokerStars with eWallets and foreign sourced funds – that never makes the news.
It's still probably best to not openly discuss gambling with strangers however, as a foreigner here. When I want to avoid questions I simply say I work online, forex trading or freelance writing. If anything it avoids having girls asking me to teach them how to play.
The poker sites themselves seem to have put Thailand on their whitelist of legal online poker countries. As mentioned PokerStars pulled out of many Asian countries that have specific laws for the online game – above and beyond a vague umbrella of 'gambling is illegal' – but still serve Thailand.
– Advice on playing live poker in Thailand?
I personally never have and have heard stories of live poker rooms in Bangkok closing down owing players. At the time of writing the military is in government and cracking down on anything against the social order, even arresting corrupt police officers.
Unlike the police, the army don't accept on the spot fines for offences, so I wouldn't want to be in a live casino in Bangkok when soldiers walk in.
A Google search for live poker in Bangkok brings up a couple of cardrooms with 50/100 cash games ($1.50/$3), I'd exercise caution and ask around on the forums though for recommendations from veteran posters.
Nagaworld or Riverking in Phnom Penh, and Queenco in Sihanoukville are some Cambodia poker rooms a short flight away. Macau, Manila and Cebu are all better options than live poker in Thailand, especially around APT / APPT time.
Flying around to get your poker fix in tournaments on the live circuit is another option. A Bangkok poker player and 2+2er (pictured) took down the Asia Pacific Poker Tour 2014 main event in Hong Kong for over $800,000.
2017 update – the Gutshot live poker room has been going from strength to strength, hasn't been raided, and I haven't heard any horror stories.
So a couple years on I'm a lot more confident about the safety of live poker in Thailand. Apparently games are great, and quite high stakes. There are Bangkok PLO games where most people have 300k Baht ($10k) on the table. Stakes 500 / 1k Baht ($15/$30).
Cost of Living
– How much does it cost to live in Thailand?
I've met poker players at the extreme ends living on $500 and $5,000 per month. It wildly depends. Wikipedia puts the average Thai wage at $489/month.
Some hippie bloggers budget $285 – PeoplesElbow on 2+2 suggested $770 may be more realistic for that basic of a lifestyle, and broke down his actual spending of $1k.
The affectionately named 'how busto can you be and still play poker in Thailand' debate has been done to death on 2+2, e.g this post asks if one would be ok playing 50nl and making $1k/month. The 100 posts after it are a good read. The consensus seems to be that $1k is doable but not ideal, and that $2k is very comfortable.
I personally spend around $1.5k and feel I live 'well'. I go into more detail on that here.
It's cheap to holiday here too. You'll find great value in Bangkok hotels – five star suites like the one above can be found for a few thousand Baht on Agoda.
The music video for Duke Dumont's 'I Got U' was filmed in Thailand at beach locales Krabi & Koh Phi Phi
– How much to live in Thailand for a year?
I'd say take the monthly figures and multiply by 15. This accounts for spending double in your first few months – things like putting down a two months rent deposit on your apartment, setting up costs, overpaying in 'holiday mode' before you settle down, getting to know the local prices, and an emergency flight ticket fund home.
You'll also be taking trips to neighbouring countries, e.g. for visa runs. I like this startup entrepeneur's blog post on how much he thinks is necessary to travel the world on ($2k/mo).
Internet
– How to set up internet in Thailand?
As mentioned Thai internet is ok – but you'll want to install your own private wifi connection at home. Living in a condominium block – where each room has a different owner, and furnished differently – usually rooms will be set up to allow this, i.e. a given internet company will have a contract with that block.
Apartment blocks however – where every room is identical and owned by one party – might have a problem with you installing your own line, as they want you to pay for their shared wifi (inevitably slow when your entire floor is trying to log on at the same time). If you're living in an apartment rather than a condo, check beforehand that they're ok with you installing your own line.
The main wifi companies are True, TOT, 3bb, probably in that order of quality but it can depend on the area you live in. To get set up ask your landlord / reception which company everyone uses in that area.
Usually it'll be True (aka Truemove). Visit a 'True shop' in the nearest mall with your passport, address and mobile no. Fill in the forms and they'll book a time for a technician to come over.
Most people I know have e.g. 10Mbps True home wifi for 640 baht/month, that's what I use. Faster connections are available too though. Internet bills can be paid at any 7/11.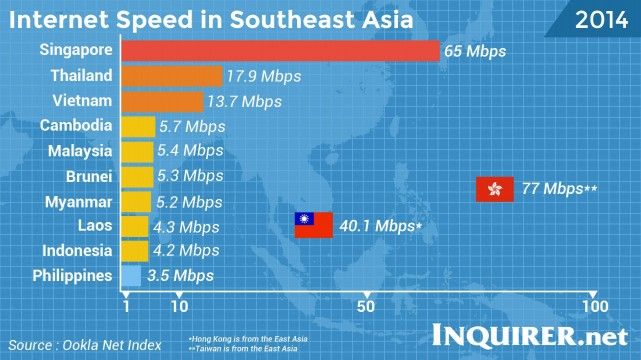 Internet is perfectly grindable in Thailand
– Options for mobile internet?
Unlike e.g. the Philippines where most use SMS texts, in Thailand everyone uses mobile 3G, which is available even on remote islands and upcountry. The main companies are True, DTAC and AIS.
Again it depends on the area but most go with True, I get the unlimited True 3G package, again for 640b/month. So my monthly internet costs are 1280 Baht and I have internet at home and on the go, and a backup connection if needed by tethering phone to laptop.
Thai 3g is actually fast enough to grind on (poker doesn't take up much bandwidth) and often better than e.g. hotel wifi when travelling. You could comfortably grind on the beach if you wanted to.
Some MTT / SNG players use services to combine their 3G and Wifi for a more reliable connection – select 'Speedify' on the Connectify.me homepage for a free trial of one such tool.
To get internet on your phone after arriving buy a True SIM (micro SIM cards are available too) from a 7/11 and add 650 baht credit to it. Ask for 'truemove online' rather than the 'slip' option – that way you enter your number into a keypad rather than having to dial a code which is slower.
Once you've added that credit, dial *900*599# to activate the unlimited 3G package. Then you're set up with mobile internet for the next 30 days, and it'll automatically renew on expiry. You can make free voice calls through the app 'Line' that everyone uses here, Japan's answer to Whatsapp.
I'd avoid the 2 week package 'Happy SIM' they sell in the airport, those are better suited to holidayers.
Where to Live in Thailand
– Best place to live in Thailand?
For poker players (and young expats in general) the most popular areas to live in are Bangkok, Chiang Mai, Pattaya, Phuket, and Koh Samui, in that rough order. Below are some cliffnotes of each.
Place
Pros
Cons

Bangkok

– Central, capital city

– Population 8M

Most people, a major capital city similar population to NY / London. Can interact with normal people, blend in, not stand out as a walking ATM. People are calmer / less jaded) than in beach / island tourist ghettos where all the locals work in tourism
Most infrastructure, only place full of cheap, metered taxis (even has Grabtaxi app and Uber) with a skytrain (BTS) and subway (MRT) so you don't need a motorbike
Hottest girls, both P4P and regular

Beach 3 hrs away
Some say less clean air, I think it's fine though, air pollution halved since the 90s
Lack of nature, although it still has major lakes and parks (Lumpini, Benjakiti, Benjasiri) and green areas (Phra Phadeng)
Traffic
Political protests

 Chiang Mai

– Northwestern city

– Population 1M

Cheaper, value for money accommodation
Trendy 'hipster' scene, lot of networking young professionals (see Facebook groups like 'Chiang Mai Digital Nomads' (a con for those who don't like backpackers, vegan / paleo / crossfit types)
Mountains, jogging / hiking trails

Beach a flight away
A 'burning season' smog over the spring months
Less P4P (a pro for those looking to settle with a girlfriend)
Limited afterhours nightlife
Lower population

 Pattaya

– Central city, 2 hrs East of BKK

– Population 100k

Largest red light scene, 'sin city'
Cheaper beer, buffets, girls, massages
Passable beach options, Jomtien, Koh Larn

Old men, sexpats in their tank top, shorts and flip flops monger uniform
Full of tourists, Russians
More crime / violence than elsewhere

Phuket

– Southwestern province / islands

– Population 500k

Great beach options
Most nature, fishing, diving
Patong, popular degen nightlife area

Need a bike, taxis charge high flat rates. Rains more
Harder to meet 'normal' girls
Most expensive area

 Koh Samui

– Southeastern island

– Population 60k

Good beach options
Western tourist chicks, full moon parties
Least sex tourists of the popular beach areas

Mafia presence, more corrupt police
Less degen nightlife (a pro for those wanting to relax and concentrate on poker)

Issan

– Northeastern region, as opposed to Central, Northern & South Thailand

– 1/3 of the country

Relaxing way of life, rural countryside, more 'real' traditional culture
Friendly locals
National parks, forests
Close to Laos border for easy visa runs
Cheap

Lack of nightlife (other than the largest Issan cities Udon Thani and Khon Kaen)
The 'boonies', can have noise issues with barking dogs, neighbors' chickens / morning tanoy alarms
Lack of western condo-style apartments
For short trips away I personally like Udon (quite built up for Issan) and Hua Hin, a beach area 3 hrs West of BKK (less tourists than Pattaya). The rest of the time I live in BKK.
Thailand Rentals
– Where to rent an apartment in Bangkok?
Most Bangkok poker players like to live centrally anywhere on Sukhumvit road from Nana to Ekkamai – those are parts of town as well as the names of skytrain (BTS) stations. If you look at a map of the BTS & MRT Nana is Sukhumvit Soi 4, followed to the East by Asok (Soi 23), Phrom Phong (33), Thong Lo (55) and Ekkamai (63).
Thong Lo is particularly popular, a trendy suburb with lots of high class restaurants, bars and nightclubs.
BTS (green) and MRT (blue) are cheap air-conditioned ways to get around
Apart from that some go further down Sukhumvit for cheap accommodation (e.g. On Nut, Soi 77) or prefer the subway (MRT) line, with areas to the North like Ratchada, Huai Khwang, or Lad Phrao, and Silom to the South.
As long as you're fairly close to a BTS or MRT station, you're connected. You could loosely define 'central' as a few stops from the point where the BTS and MRT interconnect (Sukhumvit MRT / Asok BTS) or where the two BTS lines interconnect (Siam, the main shopping area).
To find cheap places use sites like TeePak, DDProperty, ApartmentBKK, MrRoomFinder. For higher end places you could look at agent sites like HipFlat or BangkokCondoFinder to do research / get pics, then once you've decided on a place check Prakard to try to get better deals – that's a Thai messageboard where prices can be less inflated. Translate in Google Chrome or get a Thai girl to help you out. I put a lot of links in this forum post.
– How much are apartments?
Some poker players in Thailand stay in very nice one bedroom (separate living room, 60sqm or so) condominiums for around 20,000 Baht ($600) per month. Western standard with a pool and gym on a high floor in the centre of town, that kind of thing.
Others stay in nice studios in the 10,000 Baht range if they don't need that much space. For those on a budget, plenty stay in basic 5,000 Baht studios. That's about the minimum to still be comfortable (air con, fridge, CCTV security etc.) At the low end are 2,000 Baht fan rooms, less central, without English language websites.
Go a little further down Sukhumvit to find e.g. two bedroom 85sqm units at iPremium for $700
That's for central Bangkok, prices are say 20% lower in Chiang Mai and Pattaya. In Samui you can rent a house on the beach for 10,000 Baht. For hotels I tend to stay in place for 600 – 1,000 Baht a night and up when travelling.
For those playing online poker in Thailand short term, there are month to month apartment options. A friend rented a studio at iPremium (above) for 12k with only one month's deposit (two months is the standard). He got his deposit back and the internet was grindable.
Another one month option is Ascella which is right by Thong Lo BTS so near plenty of date spots, clubs, the Racquet Club for gym/sports, malls etc. Liberty Place is another budget option for short stays. For high end serviced apartments in Bangkok with one month contracts, 2+2 poster Lessu made a list of places here.
You can buy a condo for around 1 million Baht ($30,000) and up.
Expats in Thailand can own a condo outright (100% ownership) but not a house. To buy a house or land you'd need to do so through a registered Thai company and only be able to own 49% of the shares, with multiple Thai partners holding the rest. Some get round this by buying in their Thai girlfriend's name, that obviously has its own issues though.
This is a good link for advice on condo and home ownership in Thailand.
– What about living in a poker house in Thailand?
Some people do share a grindhouse, that can be good if you're all motivating each other to grind and as a way to network, get coaching and staking, etc. There's a 'looking for poker house in X country' thread here or search forums for existing ones. It isn't necessary cost wise though as accommodation in Thailand is cheap.
Sick Thailand poker house with full time maid, via Bluefire coach AJackson's Life in Thailand blog
Personally I prefer to live in the same condo block as friends, so you still have your own room, privacy and can take girls home easier (they are shy and often ask 'you stay alone?').
Also a lot of Thailand accommodation is high rise apartment block based rather than detached houses, with shared pool and gym facilities, my current place has rooftop tennis courts, squash and sauna. That also means greater security as there'll be a manned reception downstairs, keycard locks and CCTV in the corridors.
Everything in Bangkok is condensed together, with cheap metered taxis filling the streets. If you just lived at e.g. Noble Solo Thong Lo you'd be near other poker players, either in the same building or 5 minutes away.
Another reason poker houses are quite rare nowadays (unless all housemates know each other well) is there were unfortunately some scams within the Thailand poker community like computer hacking as well as dubious pricing so people are a bit more cautious.
Poker houses in Phuket are more common as things are spaced a lot further apart, sometimes people share cars or have a private driver to avoid the unmetered taxi touts and having to ride a bike after drinking. Same for Chiang Mai, that has cheap songthaews and tuktuks though so no need for a car.
– Cheapest place to live in Thailand?
Debatable. For pure low cost with a 'Thai' lifestyle – think rural farming villages – remote parts of Issan would win. Popular with retired expats, poker players not so much.
Add in western amenities and Chiang Mai is associated with being the cheapest Thailand destination – perhaps simply the most blogged about on that topic, given the influx of young online entrepeneurs and digital nomads.
Bangkok is cheap though, with experience. A problem I see is that most English language websites for Bangkok rentals online only cover more expensive buildings – e.g. 20k Baht 1 bedroom flats – because they're run by agents looking to get a worthwhile commission.
I found my current place through Thai messageboards like Prakard – a 26th floor, 45sqm unit with pool, gym, sauna, squash and tennis for 8.5k Baht. In my first year here I wouldn't have been able to find that.
Contrast that to Chiang Mai where the entire city is basically set up for expats, and is much smaller. There are plenty of cheap apartments with English language websites – I'd recommend The Mirror Chiang Mai in the trendy Nimman area (a place like the one below will set you back ~$400).
Short term rental at the Mirror, in CM's trendy Nimman area
Pattaya would be the cheapest for someone partying a lot, alcohol, girls, and getting around on the Baht bus.
Thailand Visas
– How to live in Thailand permanently?
Thailand is a little harder to stay in long term than e.g. Cambodia, Philippines, Vietnam, Laos but it's doable. Options include:
I'm a reg on the ThaiVisa forums and in the words of the main moderator there is no official limit to back to back Tourist (TR) visas. Check out this recent 2015 thread. So there's no crackdown on being a 'forever tourist'. You may have heard of a crackdown on back to back 'out in' trips, that only applies to visa waivers (free 30 day stay) though, not tourist visas.
The only issue is that as a serial tourist visa user you may eventually be asked to show proof of income from outside the country next time you apply (while still being approved that time) on your 3rd or 4th time, to check you aren't employed here by a Thai entity while a tourist.
That's easy, just take a bank statement showing transfers from outside Thailand (that can be poker wires, they don't say 'from poker site X', just show up as an online transfer) or you can just show 20,000b in cash. You also need address proof (seems counterintuitive that a tourist would rent a condo, but they ask for that).
This forum poster was on his 3rd double entry tourist visa in a row from Vientiane consulate
The best consulate to use for those staying long term on TR visas is Vientiane, in Laos (you have to apply for each tourist visa at a Thai consulate outside Thailand, then enter once you have it stamped in your passport).
Most use that one as they're known to not ask for documentation until around the 3rd or 4th consecutive time (and give advance warning of the time they'll ask), you can also break that 'chain' of Vientiane visas by getting one in Savannakhet, Laos. They're the most foreigner friendly, others e.g. the Singapore consulate are known to require flight tickets booked in advance spaced 90 days apart, or randomly refuse you if you've 'been to Thailand many times'. Then others e.g. Cambodia only give single entry tourist visas, whereas Laos gives double entries.
Also renewing your passport for a fresh one gives you a clean slate, consulates don't track your visa history in a database. Since Thailand visas fill up a whole passport page, you'll need to renew fairly often anyway.
Each entry costs 1000b and allows 60 days stay in Thailand extendable for 30 more within Thailand for 1900b, so 90 days total. The double entry ones therefore give you 180 days stay, with a trip out of Thailand after 90 (but no need to go to a consulate and reapply, you could just leave at a border, turn around and re-enter).
Some poker players like to take trips to Bali, since the consulate there gives triple entry tourist visas (so 270 days stay in Thailand with 2 trips out and back in), which Vientiane doesn't.
People have stayed for decades on TR visas, it's just an inconvience to have to border hop to renew them, it seems a bit silly when other countries allow one to pay to extend without leaving.
Online poker pro Faraz Jaka, featured on CNN talking about online poker in Thailand
Aka Education visas, these used to be a popular option, get a year's visa for $600 without needing to leave, and learn Thai included in the cost. At the time of writing (early 2015) they aren't as worthwhile anymore, recently being shortened to 6 months at a higher tuition cost and with more extension fees.
Also lately attendance is being enforced more rigorously. Regulations change often in Thailand so maybe things will change back. Personally I learnt Thai from talking to girls, rather than attending classes.
Side question – Visa for Muay Thai or learning something else?
During research on moving to Thailand people often read that they can get a year long student visa for learning Muay Thai, scuba diving, cooking, etc. as an alternative to language schools. Sadly while this is possible it's quite rare, as the institution you go to will have to be Ministry of Education (MOE) accredited, which most aren't.
Also to make up for the extra costs of being MOE approved and processing your visa the school will likely require you to do a high volume of whatever it is, I knew one guy who spent $2,000 on Muay Thai classes for his (Google search Chacrit gym), training pretty much full time. If you just want a few classes every now and again, you may not qualify.
Here and here are a couple posts on the subject or start a new thread on ThaiVisa asking for what you're looking for (prices and regulations change often). Here and here are some existing 2014 threads.
You can definitely get one for studying a Masters program here, I know a couple poker players doing postgraduate study at e.g. Mahidol or Chulalongkorn university, those are two of the top ones.
The program 'Thailand Elite' gives anyone 5 years for $15k, quite a large sum but no need to do border runs (can add to $2k per year with flights/hotels plus the value of lost time). It comes with airport limousine service, fast track, golf memberships and some other VIP perks. Useful if you're certain you'll stay for 5 years, and have the money to burn / make a high hourly so don't want to waste time on visa runs. There are loads of threads on the forums debating this option, it's controversial as it's a high fee to stay in a developing country, and the program collapsed before, although the visa stamps still worked.
Retirement / Marriage / Work Permit
If you happen to be over 50 visas are easy, cheap and extendable within the country, no need for border runs. Marrying a Thai has the same result, as does having a job here (e.g. English teacher, or one poker player opened a western food delivery business 'Paleo Robbie'. Another manages Club Electric Blue, a Patpong gogo bar.)
2+2er Binbs wrote some great blog posts on poker in Thailand
– Thailand 30 day visa on arrival?
Technically it's not a visa but a 'visa waiver' but yes you get stamped for 30 days free just by turning up at the airport. You don't have to pay a fee or apply online for anything (as you do for e.g. Vietnam).
At a land border now it's also 30 day free for G7 nationalities (UK, US, Canada, France, Germany, Italy, Japan), 15 days for others. A few nationalities e.g. Argentina and Brazil get 90 days.
Your 30 days visa-free can be extended for another 30 for a small fee at any immigration building, e.g. in Bangkok that's on Chaeng Wattana Soi 7.
As mentioned above though if you use visa waivers consecutively several times with no time apart, immigration officials may tell you not to. If you're doing e.g. 28 days in Thailand then 28 days outside of Thailand, like FIFO workers, that's fine however. Or 2 weeks here, then 1 week off, then 3 weeks in Thailand, 2 weeks off, etc.
Basically if you fit the profile of a tourist, not someone exploiting visa-free travel to live here slightly cheaper, you won't have a problem with the 'in-out' crackdown that started in 2014.
– Do I need an onward ticket to enter Thailand?
Thailand doesn't require this (unlike the Philippines) but in rare cases some airlines want to see a flight out before you board from your country. If it does happen you could a) remind them Thailand gives visa-free travel for 30 days, b) print out an unpaid itinerary, or c) book a cheap onward flight or train ticket out of Thailand on your mobile, and show them the booking. I've flown in and out hundreds of times and never been asked.
Airasia and Nokair are low cost Thai airlines. Usually the cheapest tickets are to e.g. Siem Reap or Kuala Lumpur. Airasia flight dates can be changed for a ~$25 rebooking fee. Expedia offers fully refundable flights.
Many poker guys and girls train Muay Thai, at KC Chiang Mai or RSM Bangkok 
Banking in Thailand
– Banking in Thailand for expats?
Most people open a Thai bank account, the advantage of that being to avoid ATM fees (180 Baht with foreign cards). It also helps with doing quick trades of e.g. Stars for Baht with poker players. Thai banks are safe and come with internet banking and 24/7 English language phone support.
Americans poker players I know here have Charles Schwab accounts, those reimburse all international ATM fees. Australian Citibank Plus cards also offer fee-free withdrawals.
– How to open a Thai bank account?
There is some conflicting info on this as it banks have flip flopped on their policy of letting foreigners open accounts, it used to be easy, then later they stipulated a work permit requirement. Even after that it was still randomly possible in some branches, with certain members of staff, if 'asking to speak to the manager', or making a large cash deposit. Standard Thai randomness.
Most poker players opened their accounts with Kasikorn ('Kbank', the green color bank / ATMs), I opened one even after the work permit requirement. That was at the branch on the corner of Sukumvit Soi 15, BKK. I was only asked for my passport, 150b fee for a debit card (cash cards are ATM only, debit cards work in supermarkets etc.), 1000b to deposit into the account, and a fixed address (non-hotel).
I could've made up an address, as they don't use the address for anything, Thai banks don't send letters or print statements, everything is done online). Also you can then change the address in seconds within internet banking after you find an apartment. So if you're in a hotel I'd just make something up.
You may need to go along with a Thai person as a guarantor, I didn't though. Some friends did, and others were rejected at the same bank, so it's random.
2016 update – a poker player opened a business BangkokHelper.com which opens bank accounts for foreigners. Quote 'jspill' and you may get a small discount.
Also Bangkok Bank now allows foreigners to open an account on a tourist visa, that policy is explicit on their website. Weird how they do but other banks don't.
With Kbank internet banking can be set up at an ATM, hit 'apply for service', enter your mobile, and log into online banking with the password you're texted. From there apply for a virtual web shopping card and you can make online purchases, like load funds onto Neteller or Entropay for Thailand poker deposits.
I assume it's a similar process with other Thai banks.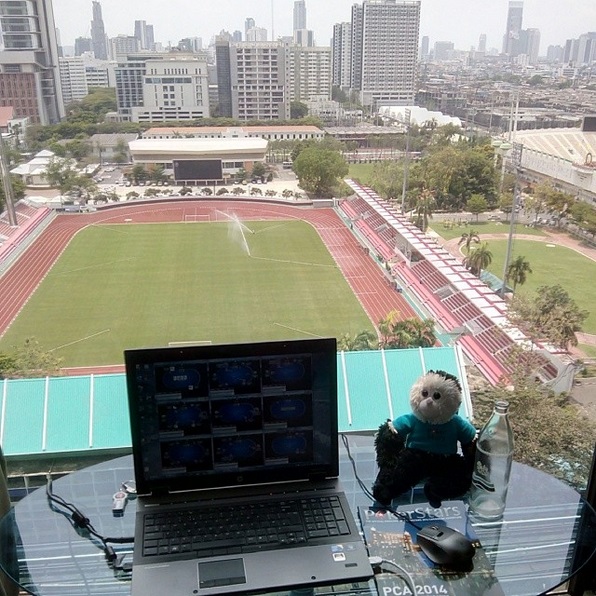 Via Daleroxxu, (ex PS Team Online) a popular Thailand poker blogger
Life in Thailand
– How big is the Thailand poker community?
I know of a facebook group of Phuket poker players with a little under 200 members, and some BKK / CM Skype groups with about the same. Some poker players in Thailand will just pass through on their travels.
Those staying long term, I've met maybe 100 or so in person. The actual size of the poker community in Thailand, counting lurkers and those in remote areas just doing their own thing, I'd guess could be around a thousand. I've randomly bumped into one sharing a tuktuk in Hua Hin, a scandi who didn't read the main English language forums. There's also a running joke that when you tell a Thai girl you work online she'll reply 'poker?'.
Some guys move from country to country but are always somewhere within South East Asia, the forums are pretty busy with regular posters. If they aren't posting, they're blogging.
Some guys meet up for weekly football in Bangkok, and quite a few go to The Racquet Club for gym / tennis.
– Do you need to speak Thai?
Some people stay here decades and never learn more than a few phrases, so you can get by without it… however it opens a lot of doors to at least reach an intermediate level, which isn't hard. Thai is easier than other Asian languages with less characters and a straightforward grammar.
There is less spoken English here than e.g. the Philippines, but still some moderate amount, and everyone seems to want to learn English. I started out talking to bargirls and taxi drivers as they're the least shy to chat.
I self-studied to a decent level and can read and write Thai – I found it much more fun than learning a European language, and it's self-motivating as locals respond so well to you making the effort to communicate. I'd recommend the Pimsleur audiotape course and FSI Thai (a free foreign services institute course).
– How to meet Thai ladies?
Well they're everywhere, women way outnumber men (even before accounting for ladyboys). You won't have a problem. They're pretty friendly and it's almost unheard of for a girl to refuse to give you her number, or 'Line' nowadays which is the popular free messaging app that also supports voice and video calls. Adding people on Line is less intrusive.
Also dating sites are a big hit – girls loves any excuse to put up a profile somewhere with their selfies – and don't have the stigma of back in the west. Many great girls want to make friends or practice English so go online. ThaiCupid and ThaiFriendly  are the main ones.
Thai Rakeback fan taking a selfie
– General advice / scams to watch out for?
I usually avoid taxis that are lying in wait for me or coming up to me, and just flag one down myself. Can also use Grabtaxi or Uber. If one you flag down doesn't put the 'meter' on (same word in Thai) just get out and get another. You round up the meter fare nearest five or ten Baht, pay tolls and if getting a public taxi from arrivals lounge at Bangkok airport there's an extra 50 Baht surcharge.
Rigged meters are rare, you can find table of appropriate fares per number on kilometres online to check if it's about right. It should reach 55 Baht after 5 kilometres (starts at 35 Baht, about $1).
No long term expat in Bangkok I know really uses tuktuks, they aren't metered and unfortunately they tend to overcharge foreigners. Which is a shame as they're an iconic image when you think of Thailand. I just got one once for the experience, took a photo and that was that. They also can't really navigate traffic like motorbike taxis, or get you to your destination faster than a car. In Chiang Mai or Issan cities tuktuks are ok.
Any apparently friendly cabbie or tuktuk driver wanting to take you to a massage, shop, restaurant, or 'lady', is likely trying to get a large commission for something overpriced that you could easily find yourself. The only useful thing is getting a free taxi to an afterhours nightclub through them, the clubs compensate them.
Phuket taxis and tuktuks are a nightmare, 10x the price of Bangkok, so everyone gets around on a motorbike. Pattaya similar story, that has a 10 Baht shuttle bus though. Those beach area have problems with the jetski scam, where jetski rentals extort tourists for large sums to replace fake scratches. Try to research a legit one.
I keep some cash in my room in case I ever need access to liquid funds. I try not to use ATMs in tourist areas as there are problems with ATM skimming in Thailand, particularly Pattaya. Pick an ATM you trust near your place. Also I withdraw e.g. 2900 instead of 3000 so it gives me small bills, taxis rarely have change.
I also blog at NomadPhilippines.com, you can read more from me and reach me for questions there.
Share this article to inspire more people considering poker in Thailand to make the move!
Looking for poker in the US? Our top pick for US grinders is Americas Cardroom:
Read comments and discussion re: poker in Thailand on Reddit