Rake Races, Free Money, and the chance to bust out Phil Hellmuth…
Check out the $10k rake race standing table at bottom of this page.
With so many great promotions exclusive to Rakeback.com users taking place on Ultimate Bet in August, why not sign up today? It's free,
as always, and you could earn your share of over $15,000 on top of the very generous 30% rakeback already offered on UB.
$10,000 Rake Race at UB and Absolute Poker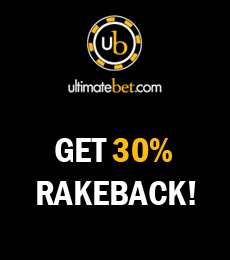 Rake your way to a share of $10,000 this August at UB.com or Absolute Poker
Top 50 places paid with $2,000 going to the overall winner!
Open to all UB and Absolute Poker players who have signed up through Rakeback.com
$3,500 Bounty Freeroll Featuring Phil Helmuth
Open to both Ultimate Bet AND Absolute Poker players – we have a very special promotion for you this month. Phil Hellmuth will exclusively be joining the Rakeback.com community and hosting his very own freeroll with a huge $3,250 prizepool. Phil has also said that he will donate $250 from his own pocket and a signed book to the player who is 'lucky' enough to knock him out – as if anyone needed any encouragement!
New players need only rake $1 between August 1 and August 31 at either Ultimate Bet or Absolute Poker to qualify for your seat.
Existing players will need to rake $50 to qualify.
All players who have qualified for a seat will receive an email directly from UB.com or Absolute Poker, no later than 72 hours before the tournament start with details on how to claim your seat. You can find the tournament listed under the freerolls tab which will be held September 5th at 16:00 EDT. The tournament ID is 5682177 and named 'RB $3500 P.Helmuth Freeroll'.
The $250 bounty on Phil will be paid within 48 hours of the end of the tournament.
Sign up at Ultimate Bet and get $5 free!
It's raining free poker money in August! In addition to the €5 free from Poker Heaven, Rakeback.com are giving away $5 to the first 300 signups at Ultimate Bet, again – NO STRINGS ATTACHED. Simply sign up at UB through Rakeback.com, register for rake tracking and you will receive $5 into your UB account within 48 hours.
Up to 40% Rakeback at UB in the first half of August
If you are new to UB or Absolute Poker you can play for the equivalent of 40% rakeback during the first 15 days of August. Simply generate $5000 in rake from August 1st to 15th at either room to receive an additional $500 cash paid into your account This is on top of your 30% rakeback and Rake Race payments, so potentially you could be playing for over 50% this month.
This offer is for new accounts only (poker accounts created on or after 28th July 2010)
All of the $500 payments will be made between 17th and August 20th
Rake Race Final Standings
Updated for August 31st.
| Position | Screen Name | Poker Room | Rake | Prize |
| --- | --- | --- | --- | --- |
| 1 | HAMAZRIYA3 | Absolute Poker | $21,330.90 | $2,000 |
| 2 | NE14DONKEY | Ultimatebet | $16,375.62 | $1,250 |
| 3 | BIM522 | Absolute Poker | $7,095.60 | $1,000 |
| 4 | ECHOHOLIC | Ultimatebet | $6,068.82 | $750 |
| 5 | FOLKYLMS | Ultimatebet | $5,144.19 | $500 |
| 6 | FORTUNEGUN | Absolute Poker | $4,671.40 | $500 |
| 7 | PLEEASEHOLD | Ultimatebet | $4,523.22 | $500 |
| 8 | SHABBAXXX | Absolute Poker | $4,267.58 | $250 |
| 9 | SPIN31 | Absolute Poker | $4,262.50 | $250 |
| 10 | DAVELAMPACH | Ultimatebet | $3,862.94 | $250 |
| 11 | TUNAPHISH | Ultimatebet | $3,602.97 | $100 |
| 12 | DEINDAJONES | Absolute Poker | $3,233.50 | $100 |
| 13 | WHAT_WHOSAID | Ultimatebet | $3,096.72 | $100 |
| 14 | POKABUDA | Absolute Poker | $3,067.17 | $100 |
| 15 | JSPOTER | Ultimatebet | $2,874.04 | $100 |
| 16 | CRAZEEE1 | Ultimatebet | $2,837.23 | $100 |
| 17 | CARLALLAN | Ultimatebet | $2,768.49 | $100 |
| 18 | SEPTCPUS | Ultimatebet | $2,602.05 | $100 |
| 19 | MR_LOVELY | Absolute Poker | $2,601.74 | $100 |
| 20 | ERIC_SAIN | Absolute Poker | $2,502.18 | $100 |
| 21 | WAY2TUFF4YOU | Absolute Poker | $2,428.16 | $100 |
| 22 | 66CHEDDAR | Absolute Poker | $2,396.39 | $100 |
| 23 | AJCHICH | Ultimatebet | $2,344.14 | $100 |
| 24 | JEEEEESUS | Ultimatebet | $2,318.64 | $100 |
| 25 | TCRAMES88 | Ultimatebet | $2,281.68 | $100 |
| 26 | SARAH55 | Absolute Poker | $2,168.96 | $50 |
| 27 | JANISSAIRE | Absolute Poker | $2,138.33 | $50 |
| 28 | XHOPEX90 | Ultimatebet | $1,956.80 | $50 |
| 29 | UDBTTRUN | Absolute Poker | $1,915.32 | $50 |
| 30 | BALONEYB | Absolute Poker | $1,887.00 | $50 |
| 31 | UMAKENOCENTS | Ultimatebet | $1,844.28 | $50 |
| 32 | LMONEY8 | Ultimatebet | $1,843.07 | $50 |
| 33 | BEARDDEZEUS | Ultimatebet | $1,798.97 | $50 |
| 34 | DEMONHYBRID | Ultimatebet | $1,575.63 | $50 |
| 35 | THNX_SWEETY | Absolute Poker | $1,562.31 | $50 |
| 36 | RA1KEMEN0W | Absolute Poker | $1,521.12 | $50 |
| 37 | ACOREANO2 | Absolute Poker | $1,444.51 | $50 |
| 38 | GIUDIZIO | Absolute Poker | $1,423.84 | $50 |
| 39 | MONKTHEDONK | Ultimatebet | $1,393.05 | $50 |
| 40 | IAMBL_E | Ultimatebet | $1,370.46 | $50 |
| 41 | SHUTUPSHIPIT | Absolute Poker | $1,319.10 | $50 |
| 42 | FLOPPAWHAAAT | Ultimatebet | $1,306.01 | $50 |
| 43 | CRAZYSHORTS | Absolute Poker | $1,281.73 | $50 |
| 44 | MONOMI | Ultimatebet | $1,266.28 | $50 |
| 45 | HTOWNZ26 | Ultimatebet | $1,206.74 | $50 |
| 46 | FURION3 | Absolute Poker | $1,191.17 | $50 |
| 47 | MIKE_FAGASOW | Absolute Poker | $1,188.31 | $50 |
| 48 | PALMERSTON7 | Ultimatebet | $1,176.68 | $50 |
| 49 | 3BARRELBL333 | Ultimatebet | $1,174.49 | $50 |
| 50 | COTTERMAN81 | Ultimatebet | $1,169.85 | $50 |