UltimateBet $12.000 Aruba Giveaway.
UltimateBet and Rakeback.com proudly present: an all-paid poker vacation at sizzling-hot Aruba!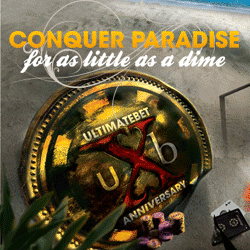 Rakeback.com invites all UltimateBet Poker players, current and new ones, to a once-in-a-lifetime opportunity: rake 1000 hands between August 15th and September 15th and get an entry to our special tournament.
The exclusive tournament will take place on September 19th and if you become the winner…
… we fly you over to always sunny Aruba, where the average temperature is 82° Fahrenheit (27° Celsius)
… we pay for all your travel expenses, including accommodation in a top-notch hotel
… you get a free entry to the Aruba Poker Classic tournament
Aruba is a must-play event. If you win the $8,500 Aruba package, we will credit your account with $3,000 for travel and accommodations. However, the buy-in for the tournament ($5,500) will not be credited to your account. Instead, UltimateBet will take care of buying you into the Main Event.
And last but not least… you get 30% of your Ultimate Bet rake back when creating your poker account through Rakeback.com