Poker Rake
Poker rake is a fee that poker rooms charge for hosting a game.  Rake is an often over-looked factor by poker players.  The few dollars or cents that poker sites take from each pot can add up quickly. Thus, rake needs to be taken into account when choosing what games, stakes and sites to play at.  In the sections below we discuss all things rake-related, from rakeback to how regulation affects rake.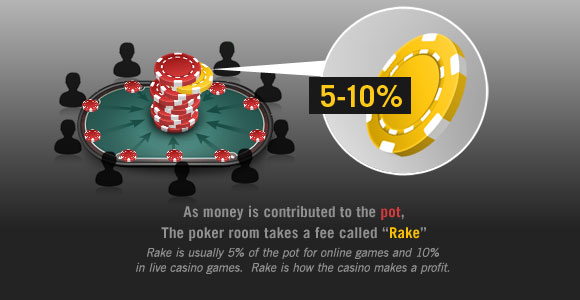 Poker Rake Basics
Rake is collected differently depending on if you are playing cash games or tournaments.
Cash Game Rake
In cash games (also known as 'ring games'), poker rake is taken out of each pot. The amount of rake varies between 5-10% depending on where you play. There is usually a cap on the amount of rake taken for each hand, which varies based on the stakes played. A general rule of thumb is the max rake should be around $3 at an online room and $5 for a live poker room.
One additional rake method for cash games is time rake, also referred to as a 'seat charge'. Only used in live games, time rake means a certain amount is charged every 30 or 60 minutes to sit in the game. Rake is not taken out of each pot when time rake is used.

Tournament Rake
Poker rake in tournaments (or Sit & Go's) is taken as entry fees. Entry fees can vary widely between online tournaments and live tournaments. Online tournament rake is usually 5-10% of the buy-in. Live tournament rake can be 10-25% of the buy-in. The amount of the rake is usually noted next to the buy in, for example $10+$1 means a $10 entry fee and a $1 rake.
Poker Rake Comparisons
When making a decison on where to play, rake should be one of the top considerations.  Check out our poker rake comparisons where we match up commonly competing rooms to determine which offers the most favorable rake.  By comparing poker rake of the most popular games, these comparisons may help you make a more informed decision.
How Regulation Influences Rake
Many markets have recently begun to regulate poker.  This can be positive on many fronts, as it legitimizes poker and makes it safer to deposit and play.  In this section, we look at how this regulation affects poker rake levels.
Game Stakes and Rake
Moving up and playing higher stakes is the ultimate goal of many poker players.  We discuss how much rake you'll pay at various stakes.  For most level jumps, rake will go up in absolute dollars, but down from a bb/100 standpoint.
Here we break down the top places to play based on various rake factors and criteria.  This is a great place to start if you aren't sure what to look for from a poker rake standpoint when choosing a site.
Rakeback Pro
The proliferation of rakeback has spawned a new type of poker professional: the rakeback pro.  This is a player that makes his living by breaking even in the game and then collecting rakeback.  We discuss how many hands need to be played at each stake to be a rakeback pro.
Factors to Consider
When it comes to poker rake, the most obvious factor is how much it is.  Poker rake affects how much money you make by shaving money off each pot you win. The higher rake you pay, the less money that goes in your pocket.
You can check out our poker rake comparisons to get a feel for the rake levels at sites you are considering.  While this is the first and likely most important factor, pure rake levels don't always tell the whole story, however.  Consider the following additional factors when looking at poker rake:
Rakeback:  By signing up for rakeback with poker rooms, you can get a substantial amount of your poker rake back and potentially drastically change the effective amount of rake being paid.  See how rakeback works
Traffic:  Its important to be able to play the games you want.  Paying lower rake but not being able to put in any volume defeats the purpose.  Higher traffic sites tend to attract professionals, so each player must strike a balance between high traffic and game quality.
Game Type:  PLO and tournaments tend to have higher relative poker rake rates than holdem.  Addionally, more rake will be paid when playing short-handed vs. full ring.  Keep this in mind when choosing which game to grind, particularly when learning new games.
Grind Plans:  If you play multiple games, its good to choose a site with an overall low poker rake rate.  However, if you only play one game and stake, better to choose the site most favorable for that game and stake.
Software:  Poker room software is not created equal.  Having a good, clean software can be extrememly helpful for multi-tabling purposes.  This is a key consideration for rakeback grinders.