Rakeback is Cashback from Online Poker Rooms
Each time you play a hand of online poker a small percentage of the pot is taken, or raked, by the house. Getting a portion of this money back is called: rakeback.
The rakeback at poker rooms varies, but on average you can receive 30% to 50% of your monthly rake back in your online poker account. In a single month you could receive payments from $50 to $10,000+.
The bottom line is: if you're serious about increasing your profits then you need rakeback.
How Much Rakeback are Players Getting?
Name: Daniel Kubota
Age: 20
Game: Holdem NL $10-$25
Avg. Hours per Day: 7
Simultaneous Tables: 5
Extra Income per Month: $150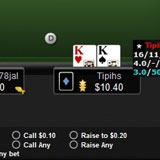 In Daniel's Words:
I first started playing poker when my brother gave me $50 on UB. I ran it up to $2,000, and moved from UB to PokerStars and Full Tilt, and now I'm playing on Carbon Poker. Ultimately, I want to build and play professionally!
Follow Daniel on Twitter: @Immadeadbird
Name: Gareth Boyle
Age: 30
Game: Holdem NL $400-$2000
Avg. Hours per Day: 4
Simultaneous Tables: 8
Extra Income per Month: $1,750
In Gareth's Words:
I began playing low stakes MTT's in 2006. I soon realised that cash games were the way to make steady income. I took my bankroll, made the switch, and never looked back. In 2007 I quit my job and have played professionally on WPT, PokerStars and 888 Poker ever since.
Follow Gareth on Twitter: @GD_Boyle
Name: Matt Miller
Age: 20
Game: Holdem SNGs $5-$215
Avg. Hours per Day: 4
Simultaneous Tables: 12
Extra Income per Month: $2,250
In Matt's Words:
Rakeback is a necessity in the current poker world. The games are more difficult than 3-4 years ago. Grinders like me would simply be leaving too much money on the tables if we didn't take advantage. Most of my Rakeback comes from BlackChip Poker and Lock Poker.
Follow Matt on Twitter: @IWINULOSETHX
Extra Incentives
Opening your new poker account via Rakeback.com doesn't just give you a bankroll boost each month; it also provides range of other benefits. For example:

Sign Up or Deposit Bonuses with

every

room
Exclusive promotions including Rake Races and Points Races
Personal VIP support
There are also many 'extra' rakeback.com offers giving even more incentives to play at poker rooms such as PokerStars and Party Poker, regardless if you're a high-roller or not. These extra benefits include:
Exclusive Freerolls
Chances at live tournaments packages